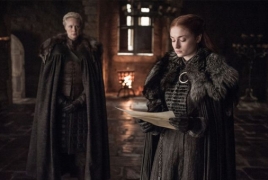 July 9, 2018 - 15:51 AMT
PanARMENIAN.Net - "Game of Thrones" has officially wrapped filming, which means the spoiler-wary cast and crew can finally breathe a collective sigh of relief.
Speaking exclusively to Digital Spy, Sophie Turner – who plays Sansa Stark – confirmed reports that she and her fellow actors were only ever supplied with digital copies of their scripts, which would "self-destruct" after reading.
"Yeah, it's all true. I mean, we wouldn't get anything physical. We would have it on an app. We would get sent sides for the scene [we were shooting] the next day. So we would have to learn it all the day before.
"And once you've read it, it disappears 24 hours later, and you can never access it again. It's tighter than the White House security!"
Turner revealed that anyone visiting filming locations "had stickers on their phones so that they couldn't take photos," and that the show's cast were even given codenames on each day's call sheet "so that no-one knew who was really going to be on set".
The series itself was also given a fake title, to hoodwink any passers-by. And that codename?
"It was Face of Angels," Turner revealed. "It's a random one!"
The final, six-part season of "Game of Thrones" isn't due to air on HBO and Sky Atlantic until 2019, with Turner admitting that it is "a big burden" to keep the "unpredictable" ending of the fantasy epic a secret.
"It's hard for me, I'm such a blabbermouth!" she admitted. "I'm sure at a party I've probably spilled some beans to someone... probably to my mum!"