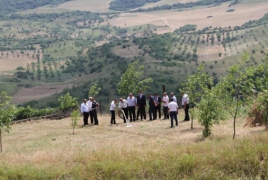 July 11, 2018 - 16:10 AMT
PanARMENIAN.Net - The village of Dovegh in Armenia's Tavush province shares a 15km-long border with Azerbaijan. The problems of infrastructure, which further deteriorated in the years following the collapse of the Soviet Union, did not go past Dovegh community. The water from the nearest woods was once used for irrigation purposes, but the threat of direct shelling has forced the villagers to suspend agricultural works on the territory of the settlement.
The only solution to the problem of security in the community was to make the lands adjacent to the houses irrigable, which was a serious issue due to the lack of financial means necessary for the creation of a new water system. With the support of mindful individuals the issue has been solved after 30 years. AMD 19,5 million has been invested into the construction of irrigation network that will provide water to the land lots adjacent to the houses of the villagers. Construction works are implemented by Dovegh Foundation.
The new system pumps the water from the woods to the pumping station under required pressure through a closed piping; this has required building 850 m long pipeline. The three subsequent stages have involved the internal network of irrigation, which has required around 5 km of piping. The efforts have helped solve two problems by securing safety for agricultural works in the fields, and by creating opportunities for people to get use of the land lots adjacent to their houses. The program has been successful also in terms of creating two jobs at the pump station.
The opening event was attended by financial supporters of the program, General Manager of Dovegh Foundation Nairi Sargsyan, Governor of Lori province Vahe Ghalumyan, Head of Noyemberyan community Karen Abazyan, Head of administrative territory of Dovegh Samvel Gorginyan, as well as community residents.
"I am happy to say the situation has changed in Dovegh: owing to contributions by people who care for the community development – Ralph Yirikian, Robert Nazaryan, Suren Sahakyan, Vachik Qoqobelyan, and Fred Nazaryan, the decades-long problem has been solved. Infrastructures are important in borderland areas for some specific reasons: villagers earn their living, stay here and have the safety issue solved to be able to work in the fields," says Gorginyan.