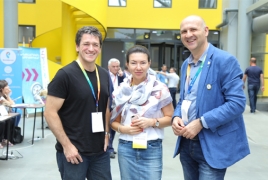 July 11, 2018 - 15:52 AMT
PanARMENIAN.Net - Armenia's Vanadzor city hosted the second Engineering Forum-Expo at Vanadzor Technology Center (VTC) on July 7. The Forum-Expo gathered engineering companies and research institutions exhibiting high-tech products and solutions. It demonstrated latest achievements of the Engineering sector in Armenia and discussed technical education and business environment challenges, as well as global developments of the industry. The Forum-Expo brought together representatives of engineering and manufacturing areas, who exchanged experience and ideas regarding Big data, communication technologies and 5G, electronics, mathematical simulation, Unmanned Vehicle and automotive etc.
Among those presenting cutting edge science was Philip Morris International (PMI), a leader in the tobacco industry that is committed to replacing cigarettes with scientifically-substatiated smoke-free products as soon as possible. PMI's extensive research and assessment program is inspired by the well-recognized practices of the pharmaceutical industry and is the industry leader in technology. PMI employs over 400 world-class scientists, engineers and experts in a variety of research and development disciplines, and was named the 58th largest patent filer in the European Union last year, with nearly 3000 patents related to its smoke-free transformation.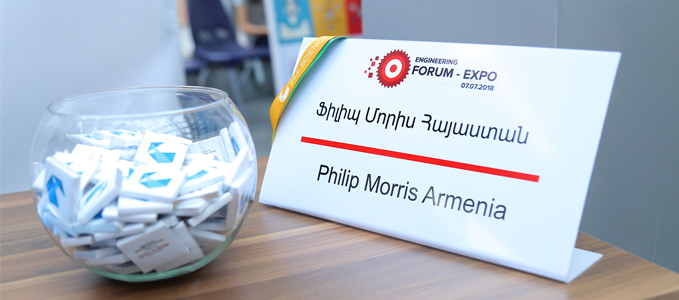 Due to the country's proficiency in the scientific and technological arenas, in 2017 Philip Morris signed Memoranda of Understanding with the Government of RA, Armenian National Polytechnic University (Polytechnic) and Yerevan State University (YSU) setting out PMA's intention to establish Philip Morris R&D facility in Armenia, as well as to support educational and research programs including Master's and PhD research projects.PMI has invested over USD 4.5 billion invested since 2008 in fundamental research, product development, scientific substantiation and product capacity behind our portfolio of smoke-free products.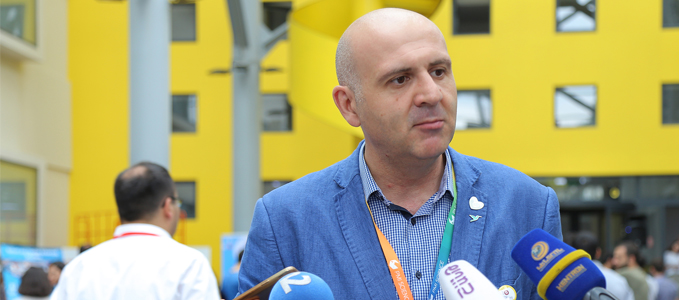 "We believe that the focus on engineering and technology sector development is very promising for Armenian economy, as well as for its international reputation. As a technological company interested in expanding our research and development footprint into Armenia, we could not miss this opportunity to learn more about technological projects, products and services developed by Armenian companies and R&D centers, as well as to exhibit our own high-tech products and solutions", said Vahe Danielyan, Manager Corporate Affairs, Scientific Engagement & Innovations of Philip Morris Armenia.
Luca Rossi, PMI's Director Product Research and IP noted that "Philip Morris participates at the Engineering Forum-Expo as a technological company, presenting its revolutionary smoke-free products, the development and assessment of which relied on a broad range of scientific and technical disciplines. Two years ago we discovered Armenia in terms of its traditions and potential for scientific and technological development. And now we are in process of establishing R&D facility here and supporting ecosystem development which promotes scientific education of the top talent in the country".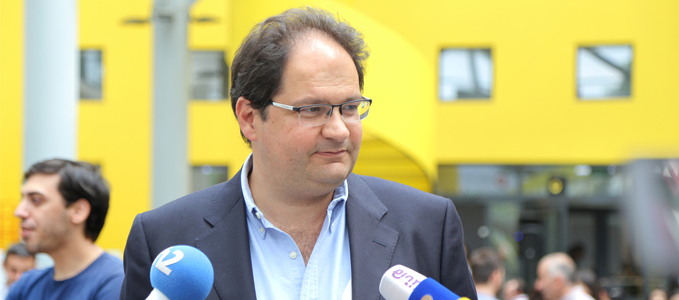 Over 300 participants were involved in the Forum-Expo from the following fields: state, research, educational, donor organizations, startups and existing engineering companies, Armenian and foreign representatives of the sector. More than 35 local and international companies will present their products, solutions and services during the expo.
The Engineering Forum-Expo is organized by Enterprise Incubator Foundation (EIF) in Vanadzor Technology Center (VTC). The Engineering Forum-Expo partners are Engeneering Assosciation, Government of Armenia, EU, The Federal Ministry of Economic Cooperation and Development of the Federal Republic of Germany, Philip Morris Armenia, National Instruments, IBM, Union of Employers of Information and communication Technologies (UEICT), Armenian National Polytechnic University, National Engineering Labs, Gyumri Technology Center (GTC), Microsoft Innovation Center (MIC), Innovative Solutions and Technologies Center (ISTC), Armenian-Indian Center for Excellence in ICT, ECA Regional Center for Mobile Solutions.
Philip Morris Armenia (PMA) is an affiliate of Philip Morris International (PMI), leading international tobacco company. PMI established a representative office in Armenia in 1995 and opened Philip Morris Armenia LLC in December 2010.
In March, 2018, PMA has started the sales of its high-tech smoke-free product IQOS in Armenia.