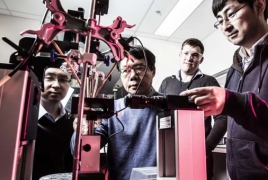 July 11, 2018 - 17:33 AMT
PanARMENIAN.Net - In a breakthrough discovery, University of Wollongong (UOW) researchers have created a "heartbeat" effect in liquid metal, causing the metal to pulse rhythmically in a manner similar to a beating heart.
Their findings are published in the July 11 issue of Physical Review Letters, the world's premier journal for fundamental physics research.
The researchers produced the heartbeat by electrochemically stimulating a drop of liquid gallium, causing it to oscillate in a regular and predictable manner. Gallium (Ga) is a soft silvery metal with a low melting point, becoming liquid at temperatures greater than 29.7C.
The discovery has potential applications for fluid-based timers and actuators in artificial muscles, soft robotics and "lab-on-a-chip" microfluidic circuitry.
Professor Xiaolin Wang, a node leader and theme leader at the ARC Centre of Excellence for Future Low Energy Electronics Technologies (FLEET), led the research team from UOW's Institute for Superconducting and Electronic Materials within the Australian Institute for Innovative Materials.
"By designing a special electrode and applying voltage to drops of liquid metal we were able to make the metal move like a beating heart," Professor Wang said.
While similar heartbeat effects have been created previously in liquid mercury, this produces an erratic motion that is difficult to deactivate or control. Mercury has the added disadvantage of being highly toxic.
Liquid gallium, by contrast, is non-toxic and produces a regular motion (at frequencies ranging from 30-100 beats-per-minute depending on the influence of gravity and on the size of drop) making it potentially of far greater use.