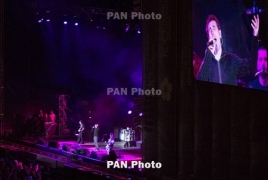 July 13, 2018 - 13:27 AMT
PanARMENIAN.Net - System Of A Down guitarist Daron Malakian and frontman Serj Tankian have traded accusations over the "hiatus" the band took in 2006 and their subsequent inability to make records.
In a recent interview with Kerrang (as reported by ThePRP), Daron specifically pointed out Serj as the one responsible for the band dragging their feet on a new release, and that the lead singer has been hesitant about new System music for longer than people realize.
"I don't want to throw Serj under the bus – he's my friend and he's someone that I care about – but I don't know how to change his mind," Malakian says. "We've all sat down and we've had meetings, and he's totally set in his way of thinking.
"Serj was never really a heavy metal or a rock guy ... I don't know if he has the same love for this kind of music as I do. I'm the kid that grew up with Slayer and Kiss on my walls ... Serj didn't grow up feeling that way. He didn't grow up a diehard fan. So I feel like the whole experience of becoming the lead singer in a hugely successful band was different for him than my experience was for me.
"To be honest with you, Serj didn't even want to make Mezmerize and Hypnotize. We really begged him to make those records. At that time, he felt like he was out."
Tankian hit back at Malakian in a Facebook post, in which the musician admitted that he and only he "was responsible for the hiatus SOAD took in 2006."
While he admitted that "continuing to do the same thing with the same people over time is artistically redundant even for a dynamic outfit like" System, Tankian did name the lack of egalitarianism as a reason behind such a decision.
"When we first started out, our creative input and financial revenue splits were close to equal within the band," he said. "By the time Mezmerize/Hypnotize came around, we were at the diametrically opposite end, with Daron both controlling the creative process and making the lion's share of publishing, not to mention wanting to be the only one to do press."
Despite all of this, System of a Down continue to perform live. Tankian continues to compose and release solo music under his own name, while Malakian's next Scars on Broadway album, "Dictator", is out July 20.