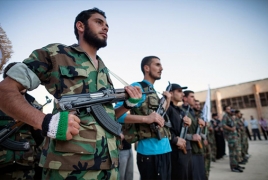 July 14, 2018 - 10:56 AMT
PanARMENIAN.Net - Rebels inside the most important town in western Daraa have agreed to hand it over to the Syrian Arab Army (SAA) and Russian Reconciliation Center, a military source in the province said, according to Al-Masdar News.
According to the military source, the rebels have accepted a deal to surrender Tal Al-Harrah in exchange for reconciliation with the government.
The rebels from the Free Syrian Army (FSA) that do not want to reconcile with the government will be transported to the Idlib Governorate.
All rebels inside of Tal Al-Harrah will be required to handover their medium and heavy weapons to the Syrian Arab Army and Russian Reconciliation Center.
The Syrian Army and Russian Reconciliation will be entering the town in the next 48 hours, the military source added.
This is a major victory for the Syrian Arab Army, as Tal Al-Harrah is the most important town, militarily, in western Daraa.
Tal Al-Harrah overlooks much of Al-Quneitra and western Daraa; its loss is devastating for the rebel forces in southwest Syria.