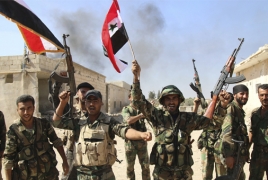 July 16, 2018 - 12:33 AMT
PanARMENIAN.Net - The Syrian military launched a major attack on Monday, July 16 morning across the the western countryside of the Daraa Governorate, Al-Masdar News says.
Led by their Tiger Forces and air force, the Syrian military stormed several areas under the control of the militants in a bid to expel Hay'at Tahrir Al-Sham from the Tal Al-Harrah area.
In order to weaken the resolve of the militants, the Syrian Arab Air Force (SyAAF) launched a plethora of airstrikes over Tal Al-Harrah and its surrounding area, inflicting heavy damage on Hay'at Tahrir Al-Sham's defenses.
The Syrian military has taken advantage of these airstrikes to sweep through the sites that have been abandoned by Hay'at Tahrir Al-Sham and their allies in western Daraa.
Since Hay'at Tahrir Al-Sham has refused to leave the western countryside of Daraa, the Syrian army has restarted their operations in this part of the province to force them to reconsider.
The ultimate goal for the Syrian military is to force the Hay'at Tahrir Al-Sham fighters to accept a deal to be evacuated to the northern region of Syria.
Hay'at Tahrir Al-Sham recently disrupted the peace agreement between the Syrian government and residents of Al-Harrah, prompting the SAA to get involved militarily.