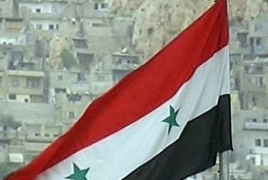 July 17, 2018 - 09:08 AMT
PanARMENIAN.Net - The famous "Triangle of Death" in Daraa is now under the Syrian Arab Army's (SAA) full control after a 48 hour long battle with the միլիտանտս near the Al-Quneitra border axis, Al-Masdar News says.
Leading the charge to capture the Triangle of Death were the elite Tiger Forces, who captured most of the sites from the members of Hay'at Tahrir Al-Sham.
The Tiger Forces were responsible for the capture of Tal Al-Harrah and Kafr Shams in the Triangle of Death, which later paved the way for another major advance later in the day.
According to a military source in Daraa, the Syrian Army has since captured the towns of Kafr Nasej, Salim and Nimr, giving them full control of the Triangle of Death.
The Syrian Army will now work to clear the remaining towns along the Al-Quneitra axis before making the big push into the southern part of this province.
The Russian Aerospace Forces have already begun launching heavy airstrikes over the Al-Quneitra Governorate, which will likely keep Israel from shooting down any jets near the occupied Golan Heights.
In the past, Israel would not allow the Syrian Air Force to fly close to their border; however, a non-aggression agreement is in place between the Russians and Israelis to avoid any potential conflicts.