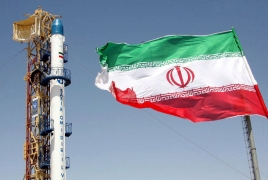 July 17, 2018 - 09:53 AMT
PanARMENIAN.Net - British Ambassador to Iran Rob Macaire says London was not following U.S. policies on Iran nuclear deal rather its own policies is the yardstick of its action, IRNA reports.
The Joint Comprehensive Plan of Action (JCPOA) is very important to Britain, Macaire said.
According to Macaire, the JCPOA has been successful in maintaining world peace and security, and "London has been committed to the deal and will continue to do so because it has many economic gains for both Britain and Iran."
Iran and five permanent members of the UN Security Council - U.S., UK, France, Russia and China- plus Germany signed the landmark deal on July 14, 2015 under which Tehran agreed to curb its nuclear program in exchange of lifting of all nuclear-related sanctions on the country.
On May 8, 2018, US President Donald Trump announced that his country was walking away from the international pact and ordered the re-imposition of anti-Iran sanctions after a wind down periods of 90 and 180 days.
Asked about the future of the JCPOA, the British diplomat said it was difficult to speak about the future of the deal but said his country has clear stands on it and that London wants to stay in the deal.
He also said that he and his colleagues are looking for proper ways to overcome the challenged now facing the deal.
However, the British envoy pointed out that supporting the JCPOA should not be limited to political slogans but should be followed by practical measures so that economic relations could be established.