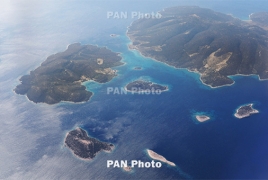 July 18, 2018 - 16:12 AMT
PanARMENIAN.Net - A Nazi warplane has been discovered off Rhodes in an 'extremely good state of preservation' that is beyond experts' wildest expectations, The Daily Mail reports.
The Junkers JU-52, a type of aircraft dubbed 'Iron Annie' that was considered the workhorse transport plane of the Third Reich, was found at the bottom of the Aegean sea near the Greek island.
Mystery surrounds what the plane was doing in the area, but the Nazis had a presence in Rhodes from 1943 and speculation is that it was either on a delivery mission or had possibly been transporting troops.
It is also not yet known how the Luftwaffe plane met its fate or how many were on board when it went down.
The wreck was found at a depth of about 245ft and to the east of the holiday island by specialist divers from 'Aegean Tec' who used GPS technology to track it down. Dramatic footage captured by divers shows the aircraft lying on the sea bed.
German officials have been contacted with details of the plane to determine if the plane crashed with the crew on board and to piece together the circumstances of how it ended up on the sea floor.
The plane appears to be in a relatively good condition, missing only the front engine, which has not yet been found, and the glass cover of the cockpit.
Experts said the extremely good state of preservation of the wreck was beyond their wildest expectations.