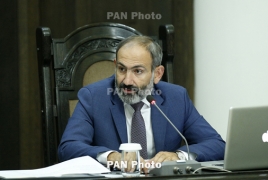 July 20, 2018 - 13:29 AMT
PanARMENIAN.Net - Armenian Prime Minister Nikol Pashinyan said at a meeting with reporters on Friday, July 20 that he is ready to negotiate with Azerbaijani President Ilham Aliyev on the process of the settlement of the Nagorno Karabakh conflict.
"Without the participation of the people of Artsakh (Karabakh) the issue will not be solved," Pashinyan said.
"All the working documents on the conflict stipulate that Artsakh must be involved in negotiations in the final phase of the settlement."
"At a press conference in Stepanakert, I said I was ready to negotiate with the Azerbaijani President.
And now I repeat that I am ready for talks as negotiations are useful too in terms of creating an atmosphere of trust, without which it's impossible to reach a settlement.
On the other hand, Azerbaijan's bellicose rhetoric is unacceptable to us.
Pashinyan expressed the view that the rise of tension on Baku's part is due to the authorities' fear that the people of Azerbaijan could follow the lead of the Armenians and initiate changes in their country too.