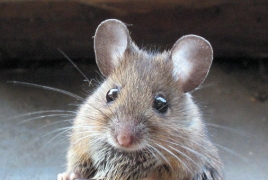 July 23, 2018 - 10:09 AMT
PanARMENIAN.Net - Genetic researchers have reversed signs of ageing in mice by reducing wrinkles and making hair grow back less grey in an unprecedented study, The Daily Mail says.
Researchers at the University of Alabama in Birmingham used an antibiotic to cause ageing by making the mitochondria within cells dysfunction.
As human age, mitochondria, the powerhouse of the cell, begin to dysfunction. As mitochondria produce 90 per cent of the energy cells need to survive, the dysfunction can drive age-related diseases such as cardiovascular disease and cancer.
Scientists caused ageing in the mice by adding the antibiotic doxycycline to their food and water to induce a mutation.
Doxycycline effects the enzyme needed to replicate mitochondrial DNA, which depletes supplies and causes them to dysfunction.
After four weeks of being given doxycycline, mice developed grey hair, hair loss, and slowed movements and lethargy. After four to eight weeks, wrinkled skin developed.
These effects could be reversed by stopping doxycycline for a month, allowing depleted mitochondrial DNA to be restored.
Keshav Singh, a professor of genetics in the UAB School of Medicine, said: 'To our knowledge, this observation is unprecedented.'
Although the removal of doxcycline in mice affected the ageing process in skin, little change was seen in organs, which suggests mitochondria plays a more important role in different areas.
Dr Singh added: 'This mouse model should provide an unprecedented opportunity for the development of preventive and therapeutic drug development strategies to augment the mitochondrial functions for the treatment of aging-associated skin and hair pathology and other human diseases in which mitochondrial dysfunction plays a significant role.'
The use of doxycycline created similar changes to mice skin to both intrinsic - the natural process of ageing - and extrinsic - external factors which influence ageing - in humans.
The skin of mice with the mutation had increased numbers of skin cells, abnormal thickening of the outer layer, dysfunctional hair follicles and increased inflammation that appeared to contribute to skin pathology.
Being able to reverse wrinkles and hair colour through the reversal of mitochondrial dysfunction is 'surprising', according to Dr Singh.
He added: 'It suggests that epigenetic mechanisms underlying mitochondria-to-nucleus cross-talk must play an important role in the restoration of normal skin and hair phenotype.
'Further experiments are required to determine whether phenotypic changes in other organs can also be reversed to wildtype level by restoration of mitrochondrial DNA.'