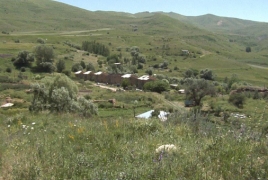 July 23, 2018 - 12:02 AMT
PanARMENIAN.Net - Gnishik settlement in Armenia's Vayotz Dzor province has a potential for agricultural development. There are around 15-20 ha of land adjacent to residential areas of the village, which are uncultivated due to lack of water. Money spent on growing fruits exceeds the income. The local budget alone is not sufficient for solving the irrigation problem in the community as water reaches the village with losses along the way. A local system of irrigation is required.
"It's senseless to speak of the yield in Gnishik. Cultivated plants fade, water for trees is fetched in buckets, which is both hard and useless, particularly in summer time. The construction of local irrigation system will solve the issue in two settlements – Gnishik and Mozrov. The neighboring village will benefit at its most with minimum effort. There are about 40 ha of lands for cultivation in Mozrov. The drip system will let residents grow fruit trees or build vineyards," Ara Levonyan, head of administrative territory of Gnishik and Mozrov settlements said.
FPWC and VivaCell-MTS will support the community as part of their joint Community Development program. Local irrigation network will be built in the shortest possible time.
VivaCell-MTS and FPWC have been implementing joint programs in Gnishik since 2015, settling the problem of drinking water by building a complete local system to supply pot water to the community. The organizations have also built a system of LED outdoor illumination, and have solved the problem of the lack agricultural equipment.