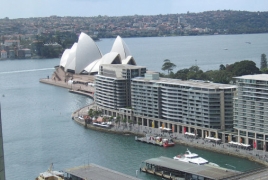 July 23, 2018 - 14:11 AMT
PanARMENIAN.Net - Australian Armenian soprano Natalie Aroyan is a principal with Opera Australia and is playing the title role in Verdi's "Aida" at the Sydney Opera House until August 31.
She will also perform the role of Eva in Wagner's "Die Meistersinger von Nurnberg" (The Master-Singers of Nuremberg) in Melbourne in November.
Natalie will also be returning to John Bell's production of Carmen as Micaela for the 2018 Sydney Season.
In an article published on Australia's Traveller magazine, Aroyan has revealed that Armenia is among the places that have "made" her.
"My first motherland visit was truly an unforgettable and powerful personal journey. It was a holiday but when some people heard I was coming, they organised a concert," the soprano said.
"Armenians have a love of opera and Armenian folk songs, so for someone to return to the country and share the same love and passion with them was something they were very grateful for and I felt so very proud to share with them.
"Visiting the Armenian Genocide Monument for the first time was very emotional. Reading the detailed accounts and seeing imagery of what took place over 100 years ago was heartbreaking. This inspired me to work on the production entitled "An Armenian Journey" in 2016. It was about the life of an orphan, my great grand-mother, who survived the Genocide and thrived. The concert was a success and all the proceeds went to charity."
Also among memories she cherishes are her trips to Disneyland, Pisa in Italy, Greece and Israel.