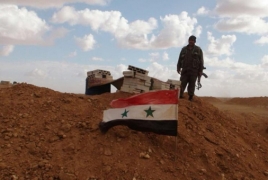 July 23, 2018 - 16:52 AMT
PanARMENIAN.Net - Hundreds of rebel fighters who had earlier reconciled in Daraa, joined the Syrian army ranks in its final assault against the Islamic State in west Daraa countryside, Al-Masdar News reports.
The move has significantly enraged other militants who rejected reconciliation and were later evacuated to the country's north; accusing their former 'brothers of arms ' of betraying the cause of the 'revolution'.
The majority of former rebel bastions across the southern province has fallen to the Syrian army by means of reconciliation deals, by which militants hand over their weapons and embed with the government troops in exchange of having their legal status settled.
The battles have now shifted to the far western countryside of Daraa where the Islamic State controls a swath of land near the borders with the Occupied Golan Heights.