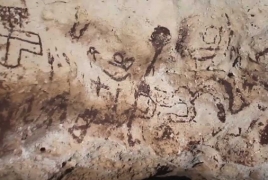 July 26, 2018 - 16:16 AMT
PanARMENIAN.Net - A team of archaeologists has discovered a treasure trove of Mayan cave paintings in Yucatán, which likely make the cavern the most significant of its kind in the Mexican state, Mexico News Daily says.
Led by Sergio Grosjean Abimerhi, the team found the cave at a depth of 12 meters in jungle located in the east of Yucatán.
The paintings are on a rock that is approximately 15 meters wide by five meters high.
"It's not the only cave with paintings in Yucatán but it is the most important because they have many elements: birds, mammals, a cross, geometric figures, human forms and among those that of a warrior as well as [prints made with] the front and back of hands," Grosjean said.
The director of the Mexican Institute of Ecology, Science and Culture — a non-governmental organization that conducts environmental and cultural investigations — said that like cave paintings found in other parts of Yucatán, the newly discovered artwork "shows the high degree of evolution of the Mayan culture."
Grosjean explained that the colors of the paintings are derived from a wide range of natural pigments and other materials such as red earth, which is known in the local Mayan language as k'ankab.
He added that neither the age of the paintings nor their exact significance has yet been determined but stressed "they're the most important we have seen."
In the coming days the team Grosjean leads will return to the cave with archeologists from the National Institute of Anthropology and History (INAH) to carry out further identification work.
"Yucatán is rich culturally speaking, but unfortunately there is no interest from the three levels of government. They don't value or respect the sacred Mayan sites, they've turned some of them into balnearios [water parks]," Grosjean said, referring to cenotes or sinkholes, which Mayans considered to be entrances to the underworld.
The archaeologist also lamented that foreign organizations and media outlets, such as National Geographic with which he has collaborated, are often more interested in promoting new discoveries than their Mexican counterparts.
"Sometimes there is no interest [in Mexico], not even in the media. They don't realize that these places are world heritage [sites], Grosjean said.
He said he was confident that Yucatán could become the world's underworld mecca, which would create thousands of jobs and encourage putting an end to water pollution, but added that the new government that assumes office later this year would have to be on board.