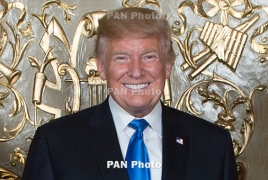 July 27, 2018 - 16:23 AMT
PanARMENIAN.Net - U.S. president Donald Trump has threatened to slap "large sanctions" on Turkey unless Ankara frees an American pastor whose detention has further strained relations between the Nato allies, The Guardian reports.
The Trump administration escalated its pressure campaign the day after a Turkish court allowed Andrew Brunson to be transferred to house arrest after 21 months in detention. He is on trial on terrorism charges.
"The United States will impose large sanctions on Turkey for their long time detainment of Pastor Andrew Brunson, a great Christian, family man and wonderful human being," Trump wrote in a tweet.
"He is suffering greatly. This innocent man of faith should be released immediately!"
Shortly before, the vice-president, Mike Pence, a devout Christian, leveled a similar threat directly at Turkey's president, Recep Tayyip Erdoğan.
"To President Erdoğan and the Turkish government, I have a message on behalf of the president of the United States of America: release Pastor Andrew Brunson now or be prepared to face the consequences," Pence said at a religious freedom event hosted by the US state department.
In response, Turkey's foreign ministry said the US administration should leave aside "wrongful rhetoric" and return to "constructive dialogue".
"It is impossible to accept the US administration's threatening messages, which totally disregard our alliance and friendly relations between our countries," a spokesman said in a statement.
Turkye's foreign minister, Mevlüt Çavuşoğlu, was more blunt, tweeting: "We will never tolerate threats from anybody. Rule of law is for everyone; no exception."
Brunson, who is from North Carolina and has worked in Turkey for more than 20 years, has been accused of helping a group that Ankara says was behind a failed military coup in 2016. The pastor, who has denied the charges, faces up to 35 years in jail if found guilty.
Brunson's detention deepened a rift between Washington and Ankara, which are also at odds over the Syrian war and Turkey's plan to buy missile defenses from Russia.
On Wednesday, Brunson was escorted out of prison in the coastal city of Izmir, and left in a convoy of cars. His lawyer said he was ordered to wear an electronic monitoring bracelet.
Washington had expected him to be freed at his trial last week, a source in the United States told Reuters on Wednesday.