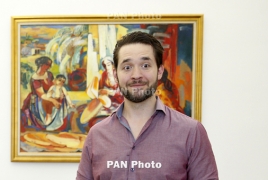 July 31, 2018 - 10:41 AMT
PanARMENIAN.Net - American entrepreneur of Armenian descent Alexis Ohanian says he believes the real reason he initially got tennis star - and now his wife - Serena Williams' attention was because she had a business question, Fox Business says.
"I would even argue that maybe the only reason she talked to me in the first place was because at the time, I loaded up her website and it was not great and she was already looking for a better tech strategy," Ohanian tells FOX Business.
Ohanian, who famously co-founded social media site Reddit in 2005, and then sold it 16 months later to Conde Nast, making him a multi-millionaire at the age of 23, met Williams' at a café in Italy in 2015. Two years later, the couple announced they were having a baby and were married shortly after the birth of their daughter.
But while Ohanian says he has been a good resource for the 23-time Grand Slam champion "in terms of deal flows with sponsorships and investments," she has been more of business inspiration to him than he would have ever imagined.
"I really thought I was like the hardest working person I knew. I thought tech was the hardest working industry. Our businesses are open 24/7 and, of course, we're always working and grinding," he says. "But then I started talking to her and then realized very quickly, just how wrong I was."
Ohanian, who left his role at Reddit in February to focus solely on growing his venture capital firm, Initialized Capital, says it's been truly motivating and humbling to watch Williams work towards her dreams.
"It's a front row seat to greatness and that is what I'm working towards in my own career," he says.
He also adds that he is just grateful that they are in completely different industries because "it doesn't feel threatening at all."
"Look, I know I'm never going to catch up with the number of Grand Slams," he says. "I think more than anything else, its just humbling to realize just how hard she works and has worked since she was a kid and that's why she's so great."