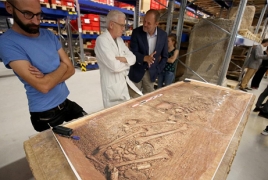 July 31, 2018 - 16:28 AMT
PanARMENIAN.Net - Archaeologists have discovered a massive stone sarcophagus in Zülpich, Germany, dating to the 3rd century AD; inside, the remains of a Roman woman and her beauty tools, Forbes says.
Located southwest of Bonn, Zülpich was known in Roman times as Tolbiacum, an important way station on the road between Trier and Cologne. Excavations in the area in service of a new sewer line revealed the grave last September along the ancient Agrippa Street.
Because of the number of well-preserved artifacts in this burial and because additional burials were expected to be found, the finding was not announced until yesterday at a press conference.
The sarcophagus required a full week to excavate, and its lid alone weighed two tons. When archaeologists removed it, they found the skeleton of a young woman, estimated to have been between 25-30 years old at the time of her death.
They also found numerous grave goods including a small hand mirror, a string of pearls, a make-up palette, and a small jar that was inscribed with the Latin "Utere Felix" -- a common expression that means "use this happily" and is somewhat similar to our "good luck" or "good health."
"The focus of the objects is clearly related to jewelry and cosmetics," Susanne Willer of the Rheinisches Landesmuseum Bonn told Der Spiegel. The woman buried in this sarcophagus was "beautiful to the death."
While the artifacts will be conserved and restored, no plan is yet in place for their permanent display, and no additional information on the skeleton, including potential testing, was announced.