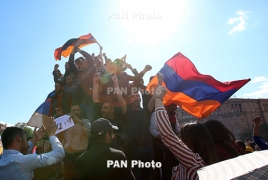 August 1, 2018 - 18:10 AMT
PanARMENIAN.Net - System Of A Down frontman Serj Tankian has revealed that he is producing a documentary about the "velvet revolution" that took place in Armenia in April-May.
The musician said in a conversation with Incubus frontman Brandon Boyd that his biggest project now is Armenia after the revolution, Forbes says.
"I don't sing often, until I have to, either to record or to tour. And I'm doing so many different things in my life that the music has just become one of those things,"Tankian said.
"My biggest project now is Armenia after the revolution. There was a revolution in Armenia, a peaceful revolution, that completely turned the system into a proper egalitarian, democratic, non-corrupt government. And it's like the rebirth of a nation. So I've been going back and doing a lot of projects there. That's been really amazing.
The SOAD singer said he is making two films in Armenia, one about the revolution, which "is gonna be incredible."
It's gonna be called "I Am Not Alone" because the revolution happened in 40 days, this really amazing story I want to get out. I'm producing. I have a friend who shot a lot of footage and we're also taking from the livestream. The revolution was live streamed, amazing. So we're making this really cool doc from that," he said.
"And I'm making a music film that I've been putting together from way long, since 2011. And I've got this coffee line we're about to launch. So I'm doing modern Armenian coffee with the actual Calderon."
Tankian and a group of Diaspora Armenians expressed support for the revolution, and the System frontman even arrived in Yerevan just days after then opposition leader Nikol Pashinyan was elected the country's new Prime Minister.