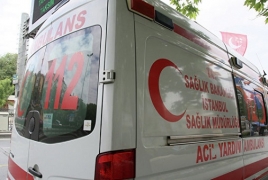 August 2, 2018 - 14:55 AMT
PanARMENIAN.Net - Turkish forces are giving Syrian armed groups free rein to commit serious human rights abuses against civilians in the northern city of Afrin, Amnesty International said on Thursday, August 2, following an in-depth investigation into life under the Turkish military occupation.
Research released on Thursday reveals that residents in Afrin are enduring a wide range of violations, mostly at the hands of Syrian armed groups that have been equipped and armed by Turkey. These violations include arbitrary detentions, enforced disappearances, and confiscation of property and looting to which Turkey's armed forces have turned a blind eye. Some of these groups, and Turkish armed forces themselves, also have taken over schools, disrupting the education of thousands of children.
"Turkey's military offensive and occupation have exacerbated the suffering of Afrin residents, who have already endured years of bloody conflict. We heard appalling stories of people being detained, tortured or forcibly disappeared by Syrian armed groups, who continue to wreak havoc on civilians, unchecked by Turkish forces," said Lynn Maalouf, Amnesty International's Middle East Research Director.
"Turkey is the occupying power in Afrin, and therefore is responsible for the welfare of the civilian population and maintaining law and order. So far, its armed forces have failed utterly in these duties. It cannot evade responsibility by using Syrian armed groups to carry out its dirty work. Without further delay, Turkey must end violations by pro-Turkish armed groups, hold perpetrators accountable, and commit to helping Afrin residents rebuild their lives."
In January 2018, Turkey and allied Syrian armed groups launched a military offensive against the People's Protection Units (YPG), the military force of the autonomous administration led by the Syrian Kurd Democratic Union Party (PYD). Three months later, Turkey and its allied forces seized control of Afrin and its surrounding areas, forcibly displacing thousands of people who fled and sought safety in the nearby al-Shahba region where they are now living in dire conditions.
According to several residents in Afrin, Turkey's armed forces have a significant presence in the centre of the city, and in several surrounding villages. On 1 July, Turkey's Ministry of Foreign Affairs stated that its armed forces will stay in Afrin to continue working on the development of the area.
Between May and July 2018 Amnesty International interviewed 32 people, some of whom were still living in Afrin and others who had fled to other countries or different areas of Syria. Interviewees named pro-Turkey armed groups including Ferqa 55, Jabha al-Shamiye, Faylaq al-Sham, Sultan Mourad, and Ahrar al-Sharqiye, as responsible for serious human rights violations.
On 16 July, Amnesty International communicated to the Turkish government a summary of its preliminary findings, requesting a response. On 25 July, the Turkish government responded questioning impartiality referring to the use of terminology such as 'al-Shahba region' and 'autonomous administration' without providing a concrete response to the findings.