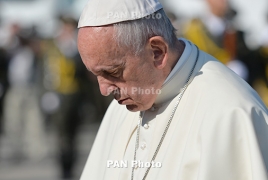 August 6, 2018 - 11:43 AMT
PanARMENIAN.Net - Writer and director Wim Wenders has made a new documentary, "Pope Francis – A Man of His Word", which chronicles Francis' life as the leader of the worldwide Catholic Church and concludes with an Armenian canticle, Religión en Libertad says in an article.
According to Wenders, the film is both "about" and "with" the pope. In the movie, Francis discusses a series of topics, while Wenders is the narrator and illustrator. The Pope does not talk to Wenders, he talks to the viewers.
According to the article, the prefect of the Secretariat for Communication of the Vatican, Dario Viganó, asked Wenders at the end of 2013 to "make a film with Pope Francis and not about Pope Francis".
The filmmaker collaborated with Francis himself, and had unrestricted access to the vast archive of TV footage and other materials of the Holy See.
"Not even in the best of my dreams would I imagine making a film about Pope Francis. [...] It was a unique opportunity," Wenders said recently.
The words of the Pope, he says, are powerful because they are based on the truth, affirms the filmmaker. And when you get to the end of the documentary, you hear the beautiful, supernatural sounds of Psalm 53, sung to the Pope during his trip to Armenia: "The fool says in his heart, "There is no God." God looks down from heaven on all mankind to see if there are any who understand, any who seek God."
"In a documentary without masses and sacraments or scenes of the Pope confessing young people, this overwhelming song is the closest thing to a recognition of the liturgy and the Mystery of the Church. Wenders wants to express that the Church is great, mysterious, traditional," the article says.