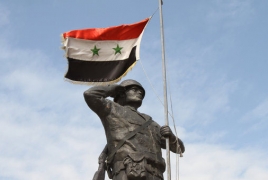 August 8, 2018 - 17:04 AMT
PanARMENIAN.Net - The Syrian forces continue to expel the Islamic State from the stretching desert east of Swaida in bid to reclaim the entire pocket.
According to a military source, the Syrian army, backed by local fighters, managed to score fresh advances across several front-lines; reaching the outskirts of Qaysoum and Bir Maselam towns, Al-Masdar News says.
The same source confirmed that the government troops infiltrated some 20 km east of Rami and Shabki towns where ISIS committed a massacre last month.
Footage posted by Syrian soldiers shows an outpost for the group under the Syrian army's control. The jihadi militants fled the battlefield leaving behind weapons and explosive devices.
On July 25, the internationally-designated group launched a surprise attack on several villages and towns east of Swaida; slaughtering more than 200 civilians and injuring few hundreds more.