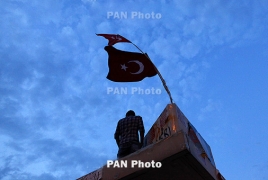 August 9, 2018 - 13:03 AMT
PanARMENIAN.Net - A group of attorneys loyal to Turkish President Recep Tayyip Erdogan have initiated legal action against U.S. officers attached to the strategic Incirlik Air Base in Turkey for alleged ties with terrorists, according to a new report, Sputnik says.
The Turkish attorneys want to temporarily halt all operations at the Incirlik base to execute a search warrant, Stars and Stripes reported Wednesday, August 8. The attorneys involved in the case are part of the Association for Social Justice and Aid, which comprises individuals who back Erdogan, the report said.
The criminal complaint says that scores of high-ranking U.S. officers are linked to Fethullah Gulen, an Islamic cleric living in the U.S. who Erdogan says was instrumental in the 2016 attempted coup against his government.
The attorneys seek the detention of U.S. Cols. John Waler, Michael Manion, David Eaglen and David Trucksa; Lt. Cols.Tim Cook and Mack Coker; and Sgts. Thomas Cooper and Vegas Clark, according to Stars and Stripes. General Joseph Votel, head of U.S. Central Command, is also named in the complaint.
According to exiled Turkish journalists at the Stockholm Center for Freedom, the lawsuit is a form of retaliation against Washington's decision to impose sanctions against two cabinet-level officials in Erdogan's administration: Interior Minister Suleyman Soylu and Justice Minister Abdulhamit Gul.
A spokeswoman for the U.S. Air Force presence at the Incirlik base told Stars and Stripes: "We continue to carry out our mission here at Incirlik Air Base, and we are proud of the relationship we have with our Turkish military partners."