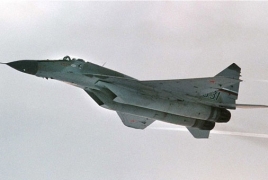 August 10, 2018 - 16:03 AMT
PanARMENIAN.Net - The air fleet of the Tiger Forces have begun their heavy bombardment of the southwestern countryside of Idlibon Friday, August 10, the Syrian military branch reported, according to Al-Masdar News.
According to the Tiger Forces, their air fleet has begun bombing bases and trenches belonging to Hay'at Tahrir Al-Sham and Jabhat Tahrir Souriya in the Al-Ghaab Plain and Jisr Al-Shughour District.
The Tiger Forces used their attack helicopters to bombard several areas around the Idlib-Hama and Idlib-Latakia axes, conducting more than 20 strikes in a short period of time.
Among the areas targeted by the Tiger Forces' helicopters were the towns of Al-Tamanah and Umm Khalakheel.