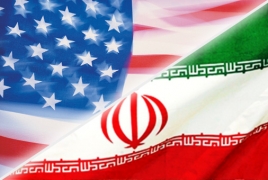 August 17, 2018 - 18:01 AMT
PanARMENIAN.Net - Iran as a country with huge energy resources is powerful enough to counter the US's unilateral sanctions, a senior cleric said, according to IRNA.
"Iran has considerable power to remove the current restrictions, if the right decisions are adopted by the officials," Tehran's Interim Friday Prayers Leader Mohammad-Hassan Aboutorabi Fard said in the second sermon of his prayers speech.
He said that if Iran transforms crude oil to more useful products, it can easily circumvent the enemies' sanctions.
"Iran has large capacities for building wealth by exporting commodities produced from crude oil,' the cleric added, while highlighting Iran's huge energy resources and its petrochemical factories.
Contrary to certain neighboring countries which suffer currency turmoil, the Islamic Republic of Iran has only 11 billion dollars foreign debt which is not considerable for a country which is listed among 20 top world economies, he noted.
US President Donald Trump has mounted pressure on Iran and on May 8 announced that Washington would withdraw from Iran's nuclear deal and re-impose nuclear-related sanctions on the country.
This is while most world powers, including Russia, China, and the European Union, have repeatedly stressed that keeping the deal is in the interest of the world peace and security.