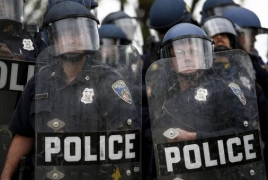 August 18, 2018 - 12:35 AMT
PanARMENIAN.Net - A U.S. veteran of the war in Iraq who killed five people during a shooting spree in the arrivals area of a Florida airport last year was sentenced on Friday to life in federal prison for what the judge called "85 seconds of evil," Reuters reports.
Esteban Santiago, 28, had pleaded guilty in May to launching the attack, near a baggage carousel at Fort Lauderdale-Hollywood International Airport on Jan. 6, 2017.
Under a deal with prosecutors, he escaped the death penalty and was instead sentenced to five consecutive life terms followed by 120 years in prison, without the right of appeal.
U.S. District Judge Beth Bloom had pushed back the sentencing hearing to allow families of victims to be present. A woman who was wounded and whose husband was killed told Santiago he was a coward, WFOR-TV in Miami reported.
Bloom called the shootings, "85 seconds of evil," and Santiago chose not to speak at the hearing, the TV station reported.
Santiago carried out the rampage after flying to Florida from his home in Anchorage, Alaska, then recovering a 9mm pistol and two ammunition clips from his checked baggage. In addition to killing five people, he wounded six others as he walked through the arrivals area, apparently opening fire at random, security camera footage showed.
After running out of bullets, he placed his weapon on the floor and surrendered to police.
A psychologist testified during a plea hearing in May that Santiago had been diagnosed with schizophrenia. Judge Bloom ruled in March 2017 that he was mentally fit to stand trial.
Santiago, who served in the Puerto Rico and Alaska National Guard, was deployed to Iraq from 2010 to 2011.
At a previous hearing, when Bloom asked Santiago why he carried out the attack, he replied: "I don't know. I wasn't thinking about it at the time ... There were a lot of things going on in my mind, messages."