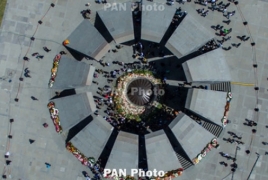 August 18, 2018 - 12:51 AMT
PanARMENIAN.Net - Fox News commentator Lisa Kennedy Montgomery (referred to mononymously as Kennedy) has urged U.S. President Donald Trump to recognize the Armenian Genocide.
According to Kennedy, Turkey is not the Washington's strategic partner, but "a corrupt, murderous regime that should be kicked out of NATO for a host of human rights violations."
"...While the president is hot under the collar, if he really wants to make his new party pal Kim Kardashian happy, he should officially and once and for all acknowledge the Armenian Genocide which was not an "issue" or a series of unfortunate events, but a cold-blooded slaughter of 1.5 million people whose memory will not be erased by any Napoleonic nincompoop," she said.
On April 24, Armenians worldwide commemorated the 103rd anniversary of the Genocide which began in the Ottoman Empire in 1915 and continued until 1923. Some three dozen countries, hundreds of local government bodies and international organizations have so far recognized the killings of 1.5 million Armenians in the Ottoman Empire as Genocide. Turkey denies to this day.