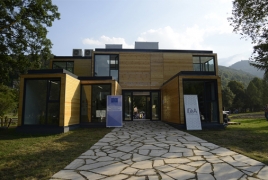 August 20, 2018 - 12:34 AMT
PanARMENIAN.Net - The first Tourist Information Center (TIC) has recently opened in Dilijan in Armenia's Tavush province, Initiatives for Development of Armenia (IDeA) Foundation reveals.
The center has been established within the framework of the Dilijan and Adjacent Communities Development Initiative, a pilot regional development program, which is implemented by the Initiatives for Development of Armenia (IDeA) Foundation along with co-funding from the EU and the RA Ministry of Territorial Administration and Development, in collaboration with the Dilijan Municipality and Dilijan National Park.
The Tourist Information Center (TIC) is the first of its type in Tavush, which will offer comprehensive information to tourists and guests visiting Dilijan and the region. One of the key objectives of the center is to boost tourist attractiveness of Dilijan National Park and adjacent areas and become a major platform for coordinating all tourism and recreation-related events in the region.
At the TIC tourists will be able to obtain information on tourist packages available in the province, rent bicycles, tents and other hiking equipment. Visitors can also buy unique souvenirs made by skilled artists.
Next to the Center, located on Maksim Gorky Street 15/2, the Dilijan City Park has also been renovated and opened to public.