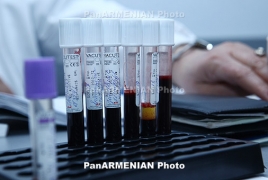 August 20, 2018 - 15:48 AMT
PanARMENIAN.Net - A small amount of saliva or blood can tell you more than you might think about our bodies.
One team of researchers from the Queensland University of Technology (QUT) is working on new and innovative ways to detect cancer earlier and easier.
"I am a firm believer of pursuing research to better people's lives either by introducing methods to detect diseases early or by assessing risks of developing disease," says Associate Professor Chamindie Punyadeera who leads the research team.
Back in January her team began developing a saliva test which aimed to detect human papillomavirus (HPV) throat cancers.
"The majority of throat cancers are HPV-positive," explains Punyadeera. "We are developing an easy non-invasive method to screen people in the community who may be carrying HPV."
Once the test has shown you have HPV, you may be able to have regular check-ups to make sure the HPV doesn't become cancerous.
"Identifying people at risk in an early stage of HPV-induced throat cancer will help to prevent progression to advanced cancer," Punyadeera said.
"Highly sensitive, saliva-based diagnostics offer the possibility to detect HPV infections in a low-cost, non-invasive manner."
Punyadeera thinks that this saliva test has the potential to detect many other types of problems too.
"[In the future] there will be saliva based tests that can be used in a home setting to detect a large number of diseases and monitor response to treatment," she explains to ScienceAert.
But saliva tests are not the only type of cancer detection that Punyadeera's team is working on.
The team is also investigating using something called a liquid biopsy to be able to quickly and easily identify cancer cells.
"A liquid biopsy is a simple and non-invasive alternative to traditional surgical biopsies which enables doctors to discover a range of information about a tumour through a simple blood draw," explains Punyadeera to ScienceAlert.
"Currently, there are companies investing millions of dollars to develop liquid biopsy based precision medicine approaches."
The liquid biopsy her team is working on helps identify clusters of circulating tumour cells (CTC) in the blood.
What the team found was that the presence or absence of these clusters in patients who had head and neck cancer could be used to evaluate the spread of cancer, to other organs. This spread is known as metastases.
"We now know that CTC clusters may hold promise as indicators of cancer spread," said Arutha Kulasinghe, who has recently completed his PhD in Punyadeera's lab.
"CTC clusters represent micro-metastases which is why they can be detected up to six months before a macro-metastasis is discovered by conventional imaging such as CT scans."
This is huge news for those suffering these cancers, as being able to discover the cancer spread quicker, means there are more treatment options for the patient.
"The preliminary study found that six of the seven patients with stage IV head and neck cancer who had CTC clusters went on to develop lung or liver secondary cancers within six months," added Punyadeera.
"In contrast we found that the absence of CTCs or CTC clusters in patients with head and neck cancer may indicate no systemic spread."