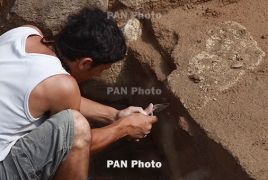 August 22, 2018 - 18:20 AMT
PanARMENIAN.Net - Archaeologists have discovered a pot with 957 valuable artifacts in the Kaliakra Fortress on the northern Bulgarian Black Sea coast, the National History Museum said in a statement on Wednesday, August 22, according to Xinhua.
The treasure contained 873 silver and 28 gold extremely valuable Ottoman and Bulgarian coins dated from the second half of the 14th century, the statement said.
The pot also included 11 appliques and buckles, 28 silver and bronze buttons, 11 gold earrings, two rings, and four beads of precious stones and gold, the statement said.
The find was discovered last Friday during regular archaeological excavations under the floor of a room burned at the end of the 14th century, the statement also said.
Regular excavations in Kaliakra Fortress were held for the 15th consecutive year, the statement said, adding that archaeologists have already found there two similar but significantly smaller treasures containing a total of 140 Ottoman coins from the end of the 14th century, as well as two pairs of gold earrings and other small adornments.
Bulgaria, located on the Balkan Peninsula at the crossroad of different civilizations, has one of the richest archaeological heritages in Europe.