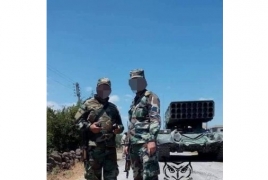 August 24, 2018 - 18:42 AMT
PanARMENIAN.Net - The Syrian Arab Army (SAA) was pictured recently with TOS-1 flamer thrower near the front-lines in Idlib, Al-Masdar News reports.
"The TOS-1A is an improved version of the original TOS-1heavy flamethrower system. It was adopted by the Russian Army in 2001. Sometimes this systems is nicknamed the "Solntesepek". The TOS-1A was used by the Russian Army in Chechnya. Some sources report that this system was used during Russian military actions in Ukraine. This heavy flamethrower system has been exported to Azerbaijan (18), Iraq (4) and Kazakhstan (3). Algeria reportedly ordered a number of these systems. Iraqi systems have seen combat during the fights with Islamic State fighters. The TOS-1A was also used during the Syrian Civil War," Military Today described the weapon.
According to a military source in Hama, the Syrian Arab Army is planning on using the flame thrower to reach underground bases that the jihadist rebels use throughout the Idlib Governorate.
The Syrian Arab Army has brought a large variety of weapons to the Idlib front, as this battle is expected to be one of the most violent of the war.