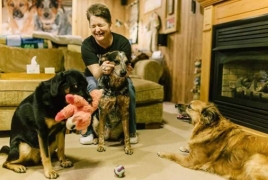 August 25, 2018 - 12:54 AMT
PanARMENIAN.Net - Researchers at Purdue University and Indiana University School of Medicine (IU) are working with man's best friend to cure one of his most insidious diseases.
The scientists say a new therapy shows promise for long-term reversal of Type 1 diabetes in both humans and dogs, Forbes says.
Purdue reported this week that scientists achieved normal glucose levels in diabetes-induced mice by injecting them with a collagen solution mixed with pancreatic cells. It is the first minimally invasive therapy to successfully reverse Type 1 diabetes within 24 hours and maintain insulin independence for at least 90 days, scientists report.
Researchers effectively ushered in healthy pancreatic cells like a Trojan horse, with the Trojan horse being a protein the body already makes for building muscles, bones, skin and blood vessels—collagen.
According to Purdue University, the next step is a pilot clinical study in dogs with naturally occurring Type 1 diabetes, which will be conducted in collaboration with Purdue's College of Veterinary Medicine.
"We plan to account for differences from mouse to human by helping dogs first. This way, the dogs can inform us on how well the treatment might work in humans," said Clarissa Hernandez Stephens, first author on the research and a graduate researcher in Purdue's Weldon School of Biomedical Engineering. Findings appear in early view for a forthcoming issue of the American Journal of Physiology – Endocrinology and Metabolism.
According to Centers for Disease Control and Prevention (CDC), 30.3 million people have diabetes, or some 9.4% of the US population. Type 1 diabetes sufferers' pancreases make very little insulin or none at all. Without insulin—the hormone that enables blood sugar to enter the cells in your body where it can be used for energy—blood sugar can't get into cells and dangerously builds up in the bloodstream.
"Type 1 diabetes affects about one in every 100 companion animals in the U.S., including dogs and cats, and approximately 1.25 million American children and adults," Purdue University reports. "Because diabetes in dogs happens similarly in humans, treatment has so far been largely the same: Both need their glucose to be monitored throughout the day and insulin to be administered after meals."
So dogs and humans could potentially benefit from the same cure: a new set of pancreatic cells to replace the clusters of cells, called islets, that aren't releasing insulin to monitor blood glucose levels, contend researchers.