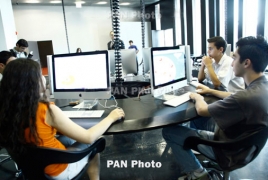 August 28, 2018 - 11:05 AMT
PanARMENIAN.Net - Armenia's high-tech sector has long been an island of innovation in Armenia's stagnant, corruption-laden economy, and tech workers played an outsized role in the protests that toppled long-time leader Serzh Sargsyan this spring and replaced him with the young modernizer Nikol Pashinyan.
Now, with a new government more in tune with the tech world's ethos, Armenia's IT industry has high expectations, Eurasianet.org says in an article about the development of the sector in the country.
"We've always worked in global markets with independent sources of finance so we have more freedom to take part in protests," Areg Gevorgyan, the head of Innovative Solutions and Technologies Center (ISTC), a tech startup incubator, told Eurasianet. "We supported a movement and they won – now we expect them to deliver tangible results."
On a recent visit to the ISTC's sleek office space in downtown Yerevan, Gevorgyan showed Eurasianet around as programmers sat glued to their monitors, hacking away at a range of projects.
"This guy here is working on a historical [role-playing] video game about Armenia," he said, pointing to a monitor. Onscreen, the armor plating of a warrior from the medieval Armenian kingdom of Cilicia was slowly taking shape.
Another notable effort, holding pride of place in the central hallway of the building, is a "smart crib," a baby bed in the shape of an iPhone that sings lullabies and reads stories while also providing parents with data on the child's health.
Turnover in the tech sector has swelled from a humble $96 million in 2008 to over $765 million in 2017, accounting for 6.5 percent of Armenia's GDP and making it the fastest-growing segment in the country's economy, according to data from the Enterprise Incubator Foundation (EIF) in Yerevan. Last year, the industry accounted for 15 percent of Armenia's total exports.
The dominant players are Armenian branches of U.S. tech giants like Synopsys, National Instruments, Mentor Graphics and VMware. But home-grown talent is also making waves. PicsArt, one of the world's leading mobile photo editing and sharing apps, now employs 350 people in Armenia and has over 90 million active monthly users. In 2015 Forbes listed PicsArt as one of the world's "50 hottest startups."
Armenian tech is not a new phenomenon. Before 1990, Armenia produced nearly 40 percent of the mainframe computers used by the Soviet military. The Yerevan Computer Research Institute, a once-secret building in the capital, employed 5,000 highly skilled workers alone.
With the collapse of the Soviet Union, however, Armenia's tech industry fell apart and the country's most-educated citizens emigrated en masse.
"Unfortunately, we faced two stages of the brain drain," said Artak Manukyan, an economist and chairman of the National Center of Public Policy Research. "We had the 'hard stage' when mathematicians and engineers left the country, followed by a 'soft stage' in which workers migrated out."
Gradually, though, the industry revived. In 2008, the government launched its first 10-year roadmap for tech, including plans to attract a range of public-private innovation centers. Microsoft was the first to invest in 2011, launching the Microsoft Innovation Center in partnership with the U.S. Agency for International Development and Armenia's state-funded Enterprise Incubator Foundation (EIF).
Today, there are nine such centers in Yerevan providing training for students and IT professionals; Gevorgyan's ISTC (founded in 2014) is one of them. Similar outfits are now active in Gyumri and Vanadzor, Armenia's second- and third-largest cities, respectively.
Armenia's vast diaspora also has been instrumental in the sector's renaissance. Diaspora Armenians in the U.S. and Europe have invested in the tech sector in the homeland, in particular by outsourcing labor: An IT professional in Yerevan can earn $1,500 a month. While that's five times the country's average wage, it's a bargain for a tech firm in the U.S., where an entry-level programmer makes an average of $4,300 a month.
But for all this, the industry has been chronically understaffed. According to a survey of industry specialists prepared by EIF, 70 percent of respondents said problems attracting qualified talent were the biggest challenge to tech growth in the country, while 59 percent said it was a major impediment. The tech sector creates 1,700 jobs annually, while universities produce 2,000 tech graduates per year. Moreover, only half of those are qualified to enter the job market without further training, according to EIF data.
Thus far, the new government's main strategy to attract capital is to flaunt its anti-corruption campaign, signaling to foreign investors that Armenia is now safe for their investments.
But Manukyan of the National Center of Public Policy Research said the government must do more.
"We need a far-reaching anti-corruption campaign, but that is not enough to increase foreign direct investment," he told Eurasianet. "Armenia has to show its advantages in human capital over other countries in the region like Georgia – and IT is clearly the sector that pushes this competitive advantage to the forefront."