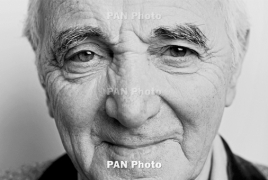 August 28, 2018 - 17:50 AMT
PanARMENIAN.Net - 94-year-old legendary French-Armenian singer Charles Aznavour is planning to give a concert on the day of his 100th birthday, the crooner himself revealed in an interview with Maximonline.ru.
"I'm planning a concert on May 22, 2024, the day of my 100th birthday. And then we'll see. And why would I stop [singing]? To die at home, sitting in a chair? No, thanks," said the artist when asked if he mulls concluding his activity.
He shared the secret of his longevity: "Every day I swim 340 meters with a weighting belt. I always eat only half of what I have on my plate. I have not smoked for forty years, although I can sometimes indulge in a cigar. And I do not drink strong alcohol. Only wine and champagne!"
The artist also revealed how he managed to live with his wife,Ulla Thorsell, for 51 years.
"The first time I got married when I was very young. The second time I tied the knot when I was very stupid. The third time I finally married the one I always dreamed of - a blonde girl with bright eyes and silky skin. In addition, Ulla is 17 years younger than me. An excellent age difference, I believe," Aznavour said.
"In general, the secret to a long marriage is to behave in front of each other as naturally as possible and always tell each other what you want to say. Although now I'm telling the truth to everyone, given my age."