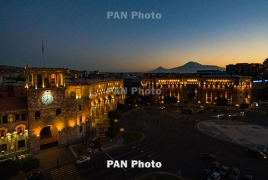 September 4, 2018 - 18:34 AMT
PanARMENIAN.Net - The Spanish edition of Condé Nast Traveler - a luxury and lifestyle travel magazine - has published an article about Armenia where "landscapes can make you cry with emotion."
The article recommends the readers to go see Armenia with their own eyes.
"Armenia is like a bottle of perfume - small on the outside but of incalculable value inside. That's what I think after visiting it, and what the 12 million Armenians in the world think. Although only three million of them live the country," says author Dani Keral.
The capital Yerevan is the spot where all the vitality of the country is concentrated, the feature says suggesting that travelers visit such beautiful corners as the Cascade, as well as the host of entertaining museums that Yerevan houses, such as the History Museum of Armenia and the Matenadaran, a repository of ancient manuscripts.
The article then offers several itineraries for seeing the architectural gems of the country, including the Pagan temple of Garni and the Monastery of Geghard, Khor Virap Monastery which offers a magnificent view of Mount Ararat, Areni-1 cave where the world's oldest-known winery and the oldest leather shoe ever were unearthed.
The article then goes on to recommend visiting Zorats Karer monument and the Monastery of Tatev in the country's south, also citing the beauty of Lake Sevan, the towns of Dilijan and Ijevan.