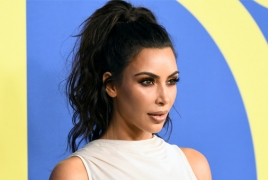 September 6, 2018 - 10:12 AMT
PanARMENIAN.Net - Reality TV star Kim Kardashian West says she's "fighting" to free a prisoner who was sentenced to life for drug possession, BBC reports.
The Armenian-American beauty says Chris Young was given an "unfair" punishment and that "the laws really have to change".
Speaking on a US podcast, she told listeners she "talks to the White House often" about prison reform.
Now Kim hopes that she can do the same for 30-year-old Chris - who has been in prison for eight years.
"It's so unfair," she said on Jason Flom's Wrongful Conviction podcast, which was released on Wednesday.
According to the Keeping Up with the Kardashians star, Chris was imprisoned for possession of marijuana and less than half a gram of cocaine.
His story has also been shared by the Buried Alive Project - which wants to stop life without parole sentences being handed out under US drug laws.
Chris was arrested at the age of 22.
According to The Buried Alive project, he memorised a 25-page speech for his sentencing in which he shared stories from a childhood "rife with poverty and trauma".
Chris received life without parole because of two previous drug charges from when he was a teenager.
The state of Tennessee enforces a law commonly referred to as the "three-strikes law", which means that once you have three convictions you're automatically given a life sentence.
If Kim succeeds in freeing Chris then this will be the second prisoner that she's helped to release.
In May 2018 she pleaded with Donald Trump to free a woman called Alice Johnson from prison.
Alice had been sentenced to life in jail, with no chance of parole, on drug trafficking offences in 1997.