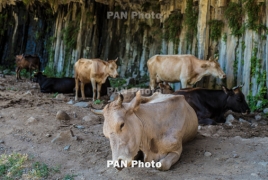 September 7, 2018 - 14:13 AMT
PanARMENIAN.Net - Drinking milk doesn't increase phlegm after all, according to new research.
The findings suggest the widely-held belief that a glass of the white stuff boosted mucus production and worsened respiratory conditions - from asthma to the common cold - is a myth, Mirror says.
Now, researchers say parents should not stop giving their child milk as the calcium it contains is vital for bone health and growth.
Dr Ian Balfour-Lynn, of the Royal Brompton Hospital in London, said: "Our department has repeatedly been told by parents that drinking milk increases mucus production from the lungs, and so they stop their child having milk.
"This is particularly so in patients with conditions associated with excess mucus, for example, cystic fibrosis and primary ciliary dyskinesia, but also includes children with infant wheeze or asthma.
"Indeed, many people believe milk should be avoided with any respiratory illness, even a common cold."
He added the myth that milk might generate excess phlegm while chicken soup might get rid of it was started in 1204 by Moses Maimonides, Jewish spiritual leader and court physician, in a treatise on asthma written for a relative.
Children's health guru Dr Spock perpetuated it in his highly influential book on baby and child care published in 1946 which sold over 50 million copies by the time of his death in 1998.
But since 1948 research showed this was not the case but the myth persisted.
One unproven theory was that a protein derived from the breakdown of certain types of milk triggers that gene that increases mucus secretion.