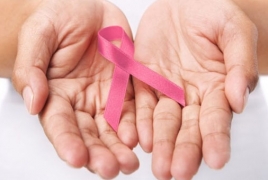 September 11, 2018 - 15:57 AMT
PanARMENIAN.Net - Australians with rare cancers and other uncommon diseases will be given access to cutting-edge treatments through clinical trials being funded by the federal government, SBS reports.
The government has revealed it will spend $10 million on six trials, aimed at helping more people with rare diseases live through them.
The conditions being targeted through include pancreatic cancer, which has a five-year survival rate of eight per cent.
The rare skin cancer Merkel cell carcinoma, which about 20 per cent of people survive, will also be tackled, along with myeloma, myelofibrosis, traumatic brain injury and high mortality cancers such as glioblastoma.
"Put simply this funding is about saving and extending lives. It delivers hope for a longer and better life," Health Minister Greg Hunt said.
The trials will be led by researchers at Monash University, the University of Melbourne, University of Sydney and La Trobe University.
The funding announcement on Tuesday came after a peak body claimed research into rare cancers has received record funding in the past year following a report that demanded action on the diseases.
Rare Cancers Australia released a report in August 2017 calling on the government, industry and research community to help improve outcomes for those diagnosed with rare and less common cancers.
About 52,000 Australians are diagnosed with such cancers each year and 25,000 people are killed by them.
The organisation on Tuesday released a "report card" on the response to the report's recommendations, suggesting Mr Hunt leapt into action by dedicating money to the cause.
Research into rare cancers will now get $248 million from a government medical research fund over five years, while $50 million will go towards a program focused on cancer genetics.
Mr Hunt also called for a new process for assessing medicines that tackle multiple tumours for the Pharmaceutical Benefits Scheme.
"There has been unprecedented research funding for rare and less common cancer patients, and strong champions for the cause on all sides of parliament," Rare Cancers Australia chief executive Richard Vines said.
Mr Vines says there is still work to do, including matching funding for rare cancers to the impact they have on Australians.
They currently account for 51.7 per cent of total cancer burden of disease in Australia but receive 8.2 per cent of funding from the National Health and Medical Research Council.
Rare Cancers Australia wants policies and regulations to support the medical discoveries in genomics and precision medicine, which involve targeting cancer treatments to individuals.