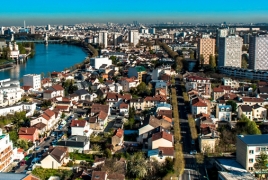 September 12, 2018 - 11:12 AMT
PanARMENIAN.Net - Events within the framework of the Days of Artsakh in France Festival have launched in the French city of Alfortville and will run through September 17.
Permanent Representative of the Republic of Artsakh to France Hovhannes Gevorgyan, Ambassador of the Republic of Armenia Hasmik Tolmajian, Mayor of Alfortville Michel Gerchinovitz, member of 'France-Artsakh Friendship Circle' MP Luc Carvounas, members of Alfortville city Council, representatives of NGOs, journalists participated in the opening ceremony.
During the ceremony, the Permanent Representative of Artsakh to France awarded Garo Khachikian, head of ARF committee of Alfortville with a Gratitude Medal of the Republic of Artsakh for the contribution to strengthening friendly relations between Artsakh and France.
Exhibitions of photos and graphic works dedicated to Artsakh, screenings of documentary films as well as lectures about the current situation in the country are on the agenda.
On November 20, 2017 a Friendship Declaration was signed between Berdzor town of Artsakh and the French city of Alfortville.