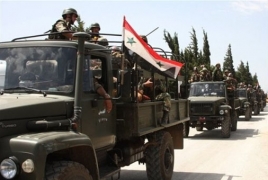 September 12, 2018 - 12:43 AMT
PanARMENIAN.Net - The Syrian Arab Army (SAA) resumed an offensive in the country's south on Wednesday, September 12 after foiling a major attack by the Islamic State (IS) in the Al-Safa region the previous night, Al-Masdar News reports.
The Syrian army struck the Islamic State's defenses early on Wednesday, forcing the latter to fall back after their frontlines were fractured.
With the Islamic State on the run, the Syrian army was able to sweep through the abandoned areas in the Al-Safa region and fully secure the territory before the militant group could regroup.
Following the Syrian Arab Army's advance, their air force unleashed a flurry of airstrikes over the Al-Safa region.
The Syrian Air Force launched at least ten airstrikes over the Islamic State's positions, causing significant damage to the militant group's trenches and installations.