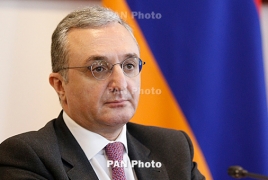 September 13, 2018 - 16:03 AMT
PanARMENIAN.Net - Armenia has been consistently promoting the recognition of the importance and priority of early prevention of genocides, Foreign Minister Zohrab Mnatsakanyan in his remarks at High Level Panel on the 70th Anniversary of the UN Convention on Genocide.
"For 20 years since 1998 Armenia has been consistently working within the UN and with its many partners towards raising awareness of the 1948 Convention on the Prevention and Punishment of the Crime of Genocide, of the continued risks and challenges related to atrocity crimes, and towards building legal and institutional capacity to prevent," the Foreign Minister said.
"Therefore, it is an opportunity in my new capacity and from this podium to reconfirm Armenia's firm commitment and resolve towards a continued effort to advancing the human rights agenda, preventing atrocity crimes, including genocides."
According to Mnatsakanyan, the role of education for the promotion of a culture of respect for human rights is indispensable functions of prevention.
"By having established a Global Forum Against the Crime of Genocide back in 2015, Armenia offers a solid platform for international co-operation for the prevention of genocide," the Foreign Minister went on to say.
"The third Global Forum to take place in Yerevan on 9 December 2018 will gather a prominent list of scholars and practitioners of genocide prevention and will particularly focus on the role of education. Armenia is duty bound and resolute to contribute to the collective international effort in prescribing remedies to prevent future genocides. I conclude with the reiteration of a deep conviction that "never again" should be uttered once and for all."
On April 24, Armenians worldwide commemorated the 103rd anniversary of the Genocide which began in the Ottoman Empire in 1915 and continued until 1923. Some three dozen countries, hundreds of local government bodies and international organizations have so far recognized the killings of 1.5 million Armenians in the Ottoman Empire as Genocide. Turkey denies to this day.