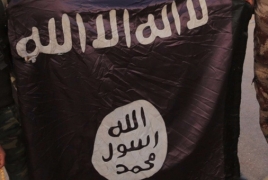 September 17, 2018 - 12:19 AMT
PanARMENIAN.Net - The Islamic State launched a large-scale counter-offensive in the Badiya Al-Sham region of western Deir ez-Zor on Sunday, September 16, according to Al-Masdar News.
The Islamic State began their assault on Sunday by storming the Syrian Arab Army's (SAA) positions at the northeastern and southeastern axes of the Badiya Al-Sham region.
According to a military source in Damascus, the Syrian Arab Army was forced to withdraw from the areas they recently liberated in western Deir ez-Zor after their first line of defense collapsed.
As a result of the Islamic State assault, more than 25 Syrian Arab Army soldiers were killed and dozens more were wounded.
The Islamic State reportedly recaptured all of the territory they lost to the Syrian Arab Army earlier in the week.
While the Russian and Syrian air forces entered the battle late last night, the Islamic State was still able to recover all of the ground they lost in the previous days.