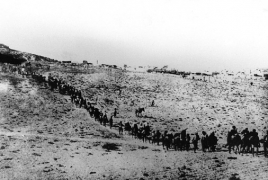 September 18, 2018 - 13:41 AMT
PanARMENIAN.Net - A monument commemorating the Armenian Genocide is being dedicated in Boise in the U.S. state of Idaho, Boise State Public Radio reports.
The Ottoman Empire was responsible for the genocide of about 1.5 million Armenians between 1914 and 1923.
Because the tragedy often slips under the radar of history books, many Armenian-Americans are committed to memorializing the event, lest it become forgotten in time.
Diaspora Armenians have inaugurated a number of memorials in honor of the victims of the Genocide. Just recently in April, a monument called "Lanterns of Memory" (Les Réverbères de la Mémoire), which is composed of nine tall bronze street light poles, was inaugurated in Switzerland. Earlier in 2012, the Armenian Genocide monument, which went on to become the focal point of the Armenian Heritage Park in Boston, was unveiled.
On April 24, Armenians worldwide commemorated the 103rd anniversary of the Genocide which began in the Ottoman Empire in 1915 and continued until 1923. Some three dozen countries, hundreds of local government bodies and international organizations have so far recognized the killings of 1.5 million Armenians in the Ottoman Empire as Genocide. Turkey denies to this day.