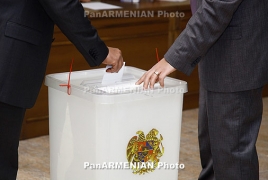 September 23, 2018 - 20:07 AMT
PanARMENIAN.Net - Polling stations closed in Yerevan at 8:00pm sharp after the residents of the Armenian capital voted to elect new members of the Council of Elders on Sunday, September 23.
According to data provided by the Central Electoral Commission, 294,537 out of 848,343 (34.72%) eligible voters cast ballots in municipal elections in Yerevan as of 5:00pm Sunday, September 23.
As of 6:00pm, the police had received 54 reports in voter fraud and violations.
12 parties and blocs were running in first elections after the velvet revolution which saw the resignation of former Prime Minister Serzh Sargsyan and the appointment as the country's new PM of Nikol Pashinyan, a former lawmaker who led the popular movement.
Former Mayor Taron Margaryan submitted his resignation on July 9, without providing reasons for such a move.