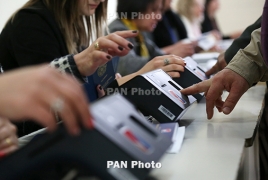 September 24, 2018 - 11:00 AMT
PanARMENIAN.Net - According to preliminary data provided by the Central Electoral Commission, My Step bloc, which is backed by Armenian Prime Minister Nikol Pashinyan, has secured more than 81% of all the ballots cast in elections to the Council of Elders of Yerevan on Sunday, September 23.
My Step is led by actor and comedian Hayk Marutyan who supported Pashinyan throughout the velvet revolution which saw the resignation of former Prime Minister Serzh Sargsyan and the election of Pashinyan as the country's new PM.
As a result, Marutyan will be installed as mayor of the Armenian capital.
Prosperous Armenia Party (PAP) collected 6.95% of the vote, Luys bloc 4.99%, the Armenian revolutionary Federation 1.62%, Yerkir Tsirani 1.39%, and the Rule of Law party received just 1.09% of ballots.
All the other parties and blocs running in elections received less than 1% if the vote.
Under the current Constitution, My Step, PAP and Luys will make it to the Council of Elders.
Voter turnout stood at 43.65%, the CEC Chairman Tigran Mukuchyan revealed.