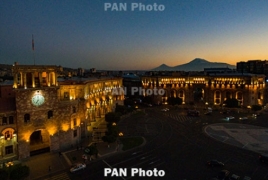 September 24, 2018 - 13:03 AMT
PanARMENIAN.Net - Armenia is among the 10 fastest-growing destinations in Europe, whose tourism according to new data from the UN World Tourism Organization.
France, Spain, Italy, and the United Kingdom may be among the world's most frequented vacation hubs—with France taking the global crown with a staggering 86.9 million international tourist arrivals annually—but these already popular places can only stand to grow so much year over year, Bloomberg says.
For instance, French tourism grew by 5.1 percent in 2017, while Moldova saw a visitation spike of 19.6 percent when it welcomed 145,000 visitors last year.
"When you're talking about these fast-growing destinations in Europe, there's often a lack of name recognition, compared to more popular countries," says Warren Chang, chief operating officer for bespoke travel outfitter Cox & Kings' Americas division. "But so many of these places have robust histories and a really understated romantic feel—plus diversity of culture and beautiful nature."
Among the destinations Chang expects to surge in 2019 is Armenia; in fact, Cox & Kings is slated to debut a new itinerary pairing the country with Georgia in the next few weeks.
Among the outfitters already serving the destination are Abercrombie & Kent, Ker & Downey, and TCS World Travel, who collectively tout historical riches such as Mt. Ararat (where Noah's Ark is said to have made landfall), the charming capital of Yerevan, and—yes—its most famous cultural descendants, the Kardashians. On trips with Abercrombie & Kent, guests also get in deep with local traditions: visiting brandy distilleries, meeting carpet makers, hearing spiritual chants in ancient monasteries, and learning to make lavash (a type of local flatbread) with an Armenian family.
Also among the fastest-growing markets are Bosnia & Herzegovina, Moldova, Azerbaijan, Macedonia, Iceland, Turkey, Israel, Georgia and San Marino.