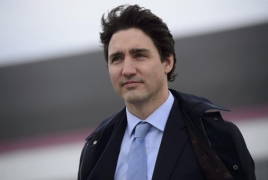 September 24, 2018 - 16:35 AMT
PanARMENIAN.Net - Canadian Prime Minister Justin Trudeau has announced that he will arrive in Yerevan, Armenia, from October 11 to 13 to attend the XVII Francophonie Summit and take part in a bilateral visit.
The theme of this year's Summit is "Living together in solidarity, shared humanistic values, and respect for diversity: a source of peace and prosperity in La Francophonie."
"The Summit in Yerevan will be a chance to deepen the strong friendship the international Francophone community shares," Trudeau said.
"La Francophonie plays a major role to promote important values like peace, diversity, and inclusion, and I am pleased that La Francophonie and Armenian organizers have chosen to highlight these common values. By building on our diversity, we can innovate, collaborate, and create a better world for everyone."
During the Summit, the Canadian PM will highlight the importance of working together to address shared challenges, grow economies that work for everyone, and promote diversity and inclusion.
Trudeau will also underline how important the International Organization of La Francophonie is to Canada, and emphasize the vital role that Francophone communities have played throughout Canada's history.
Following the Summit, Prime Minister Trudeau will also take part in a bilateral visit to the country. The visit will be a chance to discuss the important relationship between Canada and Armenia and explore ways to work together more closely to further strengthen commercial and economic ties.