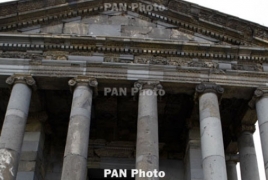 September 29, 2018 - 16:36 AMT
PanARMENIAN.Net - The exhibition at the Metropolitan Museum of Art, 'Armenia!' (until 13 January 2019), celebrates both the richness and the diversity of Armenian artistic and cultural production and the identities which these express, an article published on Apollo Magazine says.
It brings together an impressive collection of objects – manuscripts, textiles, khachkars (cross stones) and other carvings in stone and wood, liturgical vessels, ceramics and jewellery. These attest a predominantly – though by no means exclusively – Christian world, revealing that Armenian artistic traditions were tied to Christian belief, worship and display.
"Yet we should remember that the Christian character of Armenian art, as it is presented here, is the product of the particular circumstances of preservation," author Tim Greenwood says.
"These manuscripts and objects were cherished in patriarchal treasuries, monastic libraries and individual churches. These had been present in the Armenian landscape for centuries and served as guardians of Armenian tradition.
"Much less evidence for Armenian secular or popular artistic tradition has survived, at least from the premodern period, although there are tantalising proofs of its existence.
"Anania of Shirak, an Armenian intellectual active in the middle of the 7th century, imagined a scenario for one of his mathematical problems in which a very large silver container was broken up and refashioned into plates and goblets of various different weights and dimensions.
"This implies an active metalworking tradition in Armenia in late antiquity although no objects of this provenance have been found or identified. Arabic geographical writers of the 10th century praised Armenian textile manufacture, including carpets and rugs – 'without equal anywhere in the world' according to Ibn Hawqal – but the earliest dated liturgical textile, an embroidered banner depicting St Grigor, dates to the middle of the 15th century. And in 1613, shortly after his death in New Julfa outside Isfahan, the Armenian artist Hakob was remembered as one who 'decorated the Scriptures with many different colours, with gold and azure, who was a decorator of houses and who was a skilful scribe'.
"The Armenian merchants, khojas, forcibly transferred to New Julfa by Shah 'Abbas I in 1604, commissioned richly illuminated manuscripts for themselves and their newly founded churches but this commemoration suggests that they also commissioned frescoes for their houses; again no trace of these painted interiors survives.
"Almost nothing of the Armenian royal or noble palaces or merchant houses has been unearthed; only the charred fragments of elaborate wooden carvings and plaster decoration discovered by Nicholas Marr during his excavation of the east hall in the citadel at Ani a century ago hint at the visual splendour of the Bagratuni court in the 10th and 11th centuries."