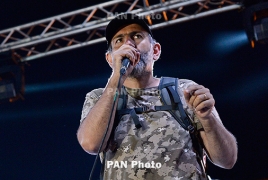 October 4, 2018 - 18:45 AMT
PanARMENIAN.Net - Forward of the youth national football team of Azerbaijan Renat Dadashov had to explain himself after he liked the photo of Armenian Prime Minister Nikol Pashinyan on Instagram.
The photo was posted by Armenian rapper Levo who lives in Germany. A little later, Dadashov unliked the picture.
"I will say right away that I studied in the same school with Levo, who posted a photo of the Armenian politician. I didn't even know who that was," the footballer said.
"Besides Germans, Turks, Russians, Armenians and representatives of other nationalities attended that international school. We had mutual friends. In Germany, we grew up differently, we were not divided by nationality."
"I just recently noticed that I have liked the photo. It happened by accident, and I should not have done that. I am well aware of the history of this conflict (the Nagorno Karabakh conflict - Ed.) , and I understand everything very well," Dadashov said.
Asked whether he is not afraid that the incident will cast a shadow on his future with the national team, the footballer said he was very sorry about what happened.